Variety is the spice of life, and here at Aussie Fitouts we get plenty!
In the last few months the team have created fabulous fitouts for trendy food venues; a dream Supre store for Sydney fashionistas; and most recently, the local Foodworks supermarket in picturesque Pottsville!
Keeping it fresh!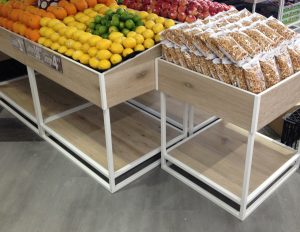 The accent for the Foodworks fitout was fresh. The supermarket was designed to have a crisp, natural look, using materials that enhanced the products rather than overshadowed them. And it succeeded.
Fitouts directly affect customer experience and our client wanted shoppers to enjoy a leisurely experience while grabbing their weekly groceries at Foodworks. Pottsville is a relaxed seaside town and the fitout needed to reflect that laid-back lifestyle in store.
Metal as anything
Foodworks needed lots of shelving. For shelving you can't go past metal – it's efficient, clean and highly durable. This job entailed extensive metal work, but it was carefully balanced with lots of natural materials.
Floored
The designers put a lot of thought into the use of materials for the store. They needed to fit with the fresh, natural style of the fitout but it had to be highly durable for trolleys and lots of foot traffic. We think the end result was something to cheer about!
Large timber ceiling features
Check out the impressive timber features on the shop's ceiling. We love working with timber and these beautiful beams were no exception. They add an earthy accent to the store, and a sense of solidity and permanence. We've had lots of great feedback about the timberwork on the ceiling… so we're very happy campers.
Opening Up
The open plan layout of the store really works. The joinery draws the eye and allows for ease of movement. The open plan also adds to the relaxed feel of the store.
To the good people of Pottsville from us … we hope you enjoy shopping at your new Foodstore.