A dining revolution is on the way ……. Nickel Kitchen & Bar
Restaurant design and location is vital to the atmosphere of any dining experience. It must complement the food and service, and set the overall mood for diners.
That feeling you get when you go to a restaurant and feel comfortable, much of it is due to the design and location. Generally, diners are not conscious of how a restaurant's design affects their experience, but know when they feel comfortable, or when a room doesn't feel quite right. Lighting, sound, furnishing, fixtures, fittings and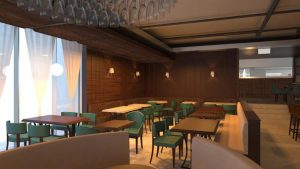 carpets all contribute to the overall impression left on diners.
When we were approached by TJ & Kim Peabody, owners of Indooroopilly's Nantucket Kitchen & Bar, to fitout a brand new 120 seat restaurant, we knew it was going to be something special, especially as Food Strategy were involved – who are known as industry specialists in design, consultancy and equipment.
Consultation and Design
We engaged in an in-depth consultation with TJ, Kim, chef Chris Sell and Food Strategy about the entire restaurant build. Of the details that emerged from the consultation, old world styling, luxury fittings and an emphasis on fine wine were key.
Wine features heavily in the restaurant design. TJ is an expert in wine, being a former Managing Director of Sales and Marketing for Craggy Range Winery. Fittingly then, the design will include an extensive wine wall.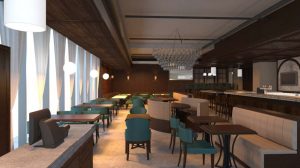 Art deco themes abound, including a Plumm glass chandelier, and incorporation of Chesterfield furniture will add distinctive luxurious style, with many other opulent design details.
Historic cooking utensils will feature as part of the decorative ambience of the restaurant, lending an authentic traditional feel to the space.
The kitchen will be state of the art, with the latest technology and innovations available for the chef's to use.
From Design to Build
As is often typical , the site started as a bare concrete box – a blank canvas for our team to work with. Our scope of works is all encompassing – the furniture, electrical, plumbing, painting, plastering, floor coverings, audio and the rest.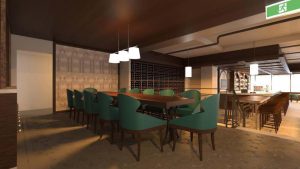 A big part of what we do at Aussie Fitouts is provide a complete service. We understandthat bringing to life the design is vital to ensure the required outcome is achieved. We are your one-stop consultancy and fitout specialists.
Nickel Kitchen & Bar will be opening in trendy inner-Brisbane Fortitude Valley in April, and we can't wait.