Full Moon Hotel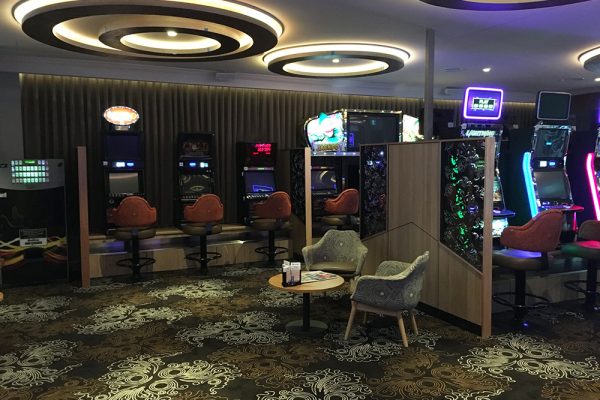 Location: Sandgate, Brisbane
Year: 2017
Services: Project Manage, Build
The gaming room at the Full Moon Hotel in Sandgate has a sophisticated new look.
This project saw us working in an open trading restaurant and bar which required precise project planning and execution to minimise disruptions to patrons.
Out first steps were to de-fit the existing function room providing a blank canvas for the new design, the fitout showcases large, ceiling statement pieces, custom built cabinetry, an exclusive gaming bar and filigree acrylic panelling. The filigree pattern also flows through the new carpets and glass frosting. The whole look giving patrons wonderful new surrounding to enjoy.
The showstopper is the individually crafted dual-sided feature wall made in- house in our local factory. The wall combines a mixture of blackbutt and spotted gum timber panels, built to catch the eye at different angles, and individual mirror and frosted panels. The wall is a piece of art itself and provides a flow of the new design through the hotel. Structural changes were also made to the outside of the building o create a new external smoking area.